We have some newly-added venues in our app because we want you Partyphiles to only experience THE BEST! Read more to find out what they are!
---
1. Twenty Two Jupiter
22 Jupiter St., Bel-Air, Makati City  
Named after the street where it is located, 22 Jupiter has a cave-like interior that offers great acoustics and ambiance. They also have drinks and live entertainment during late nights so it's perfect for people who just want to chill and enjoy the delicious and affordable meals they offer!
2. Alchemy Bistro Bar
4893 Durban St. Cor. Polaris St. Makati City
Alchemy is a bistro bar with three distinct areas. An outdoor pizzeria with Italian wood fired pizza oven, a unique indoor eating/drinking venue and rooftop wine bar. They deliver wizardly wonders with their delicious cocktails and transforms a normal meal and night on the town into something special and sparkling!
3. Handle Bar
31 Polaris St. Bel-air, 1209 Makati
Handlebar is the only full-fledged sports bar for bikers and expats. People can play pool while watching sports channels and local rock 'n roll bands perform at the bar! The interior has dim lights, excellent air-conditioning, rock 'n roll music, masculine trimmings, tall and comfy drum stools; perfect for the bros out to chill.
4. Hooch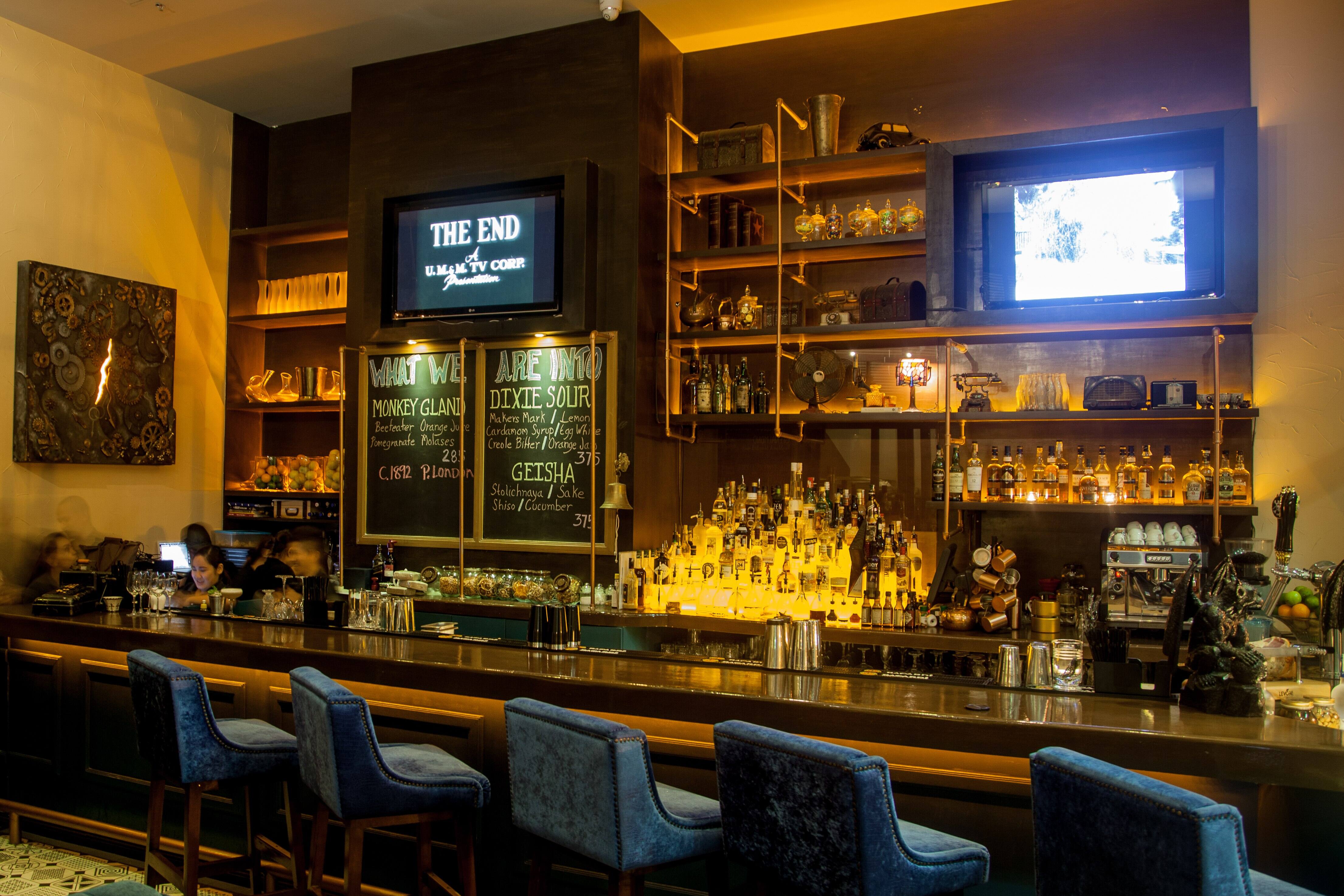 G/F 125 V Corporate Center, L.P. Leviste, Street Salcedo Village, 1227 Makati City
A casual neighborhood watering hole created for both pub-goers and speakeasy-goers, Hooch is a slang word for moonshine or bootleg alcohol – popular term during prohibition era also defined as a place where illicit/prohibited spirits of very high proof are traded and sold. They carry local craft beers and international brews and create 2 signature cocktails every week because that's how much they care about their drinks. WOW! That's like 104 signature cocktails a year!
5. Lōla Cafe + Bar
1103 Sct. Lozano St, Diliman, Quezon City
Lōla is a cozy cafe hidden within the arteries of Tomas Morato. This charming and understated spot quickly gained a following for its hearty and progressive take on Filipino cuisine, for its thoughtfully detailed interiors, and close-to-home customer service. It's an ideal place for an intimate dinner or even to have drinks with friends until the late hours of the night.
6. Octoboy
186 Tomas Morato, Corner Scout De Guia, Sacred Heart, Quezon City
Craving for Japaneses snacks and dishes? Then drop by Octoboy Food Express! They are aimed to provide quality Japanese food to the Filipino people at very reasonable price. The food isn't only delightful, but it's also unique and far different from what's existing!
Call all your friends and head on to any of these venues and you'll surely have a blast! There are gonna be more venues and surprises to come for all you Partyphiles. Follow us in our social media accounts for more updates on upcoming events and new venues. Cheers!
Facebook: https://www.facebook.com/partyphileapp
Twitter: @partyphile_app
Instagram: @partyphile_app